Through the Bible with Les Feldick
Newsletter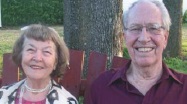 Dear Friends,
I know it sounds trite, but where did summer go? June, July & August simply disappeared! We are both still doing ok. I can't even remember my last doctor's visit. It's an eat & sleep routine! We continue to praise the Lord for good health and the ability to be together in our beautiful ranch setting. Just the other day, one of our drop-in visitors stood, looking around and exclaimed "How did you find this beautiful place?" My answer – Our Providential God! He knew exactly what Iris & I needed. We praise Him every day! Our time on the swing is praise time! We have now been in the valley for 44 years! Although we love it here, how we look forward to the Lord's soon return! – Les
---
Many of you have been praying for Sharon Martin who was so instrumental in transcribing the books, helped with "Through the Bible" recordings, and has been just an all-around wonderful friend to the ministry as well as Les and Iris personally. Many of you may know her as "the redhead". We want you to know that every prayer was answered when Sharon graduated to her Heavenly home on September 12, 2019. Her daughter shared with us that it was truly a home-going and that she was comfortable and at peace with her family by her side. Despite brain cancer and this old world of sin, Sharon never wavered in her faith and even made sure that 1 Corinthians 15:1-4 was part of her obituary. Please continue to lift up Sharon's husband, Andy, and daughter, Lee Ann, in the days ahead.
---
A large percentage of questions we get at the ministry deal with prophecy, and I think some people pride themselves on coming up with the most obscure question they possibly can. I make no bones about telling folks that scripture does not necessarily reveal everything we would like to know, but it gives us what we need to know. It is good to study prophecy keeping in mind that it does not apply to us today because it's all outside of Paul's Epistles, which are for us, the body of Christ (Jew & Gentile who put faith alone in the finished work of the cross for salvation). That is why I maintain that Rightly Dividing is the key…it is in Paul's Epistles alone (Romans through Philemon) that we can find Salvation in the age of Grace!
Think along these lines:
Mystery = Body of Christ
Prophecy = Israel
Rapture = Body of Christ
Tribulation & 2nd Coming = Primarily Israel
Eternity as joint heirs of Christ in Heaven = Body of Christ
1,000 years with Christ as King while Satan & his angels are bound in chains = Primarily Israel White throne judgment = Unbelievers of all ages
Lake of fire = Satan, fallen angels, Unbelievers of all ages
Eternity with our Lord without sin, pain or suffering of any kind, be it in the Heavenlies, New Earth or both (Scripture does not reveal) = Believers of all ages
Resurrections
1. First Fruits ~ Christ and the O.T. Saints who came out of their graves (Matthew 27)
2. Main Harvest ~ The Church which is the Body of Christ (I Corinthians 15:51-53 & I Thessalonians 4:16-18)
3. Gleanings and Corners ~ Those believers between the cross and the introduction of Grace and the tribulation saints (Daniel 12:1-2)
---
We receive many questions about the Bible Les uses. Les has for many years used exclusively the Old Scofield Study Bible with 1917 notes, King James Version. The Bible that is shown on TV is a J. Vernon McGee Reference Bible, King James Version that can only be obtained from the ministry "Thru the Bible Radio." Although the current edition does not contain all the references as the Bible used on the program.
Although it has its opponents, Les still stands by the King James as being the most accurate English translation of scripture available. Forty-seven scholars, experts in Hebrew, Aramaic, Latin, and Greek, spent 7 years pouring over each word of the manuscripts of the Textus Receptus. After one group of linguists meticulously transcribed a portion of text, it was sent for review by the next group and so on until all were satisfied that the translation was accurate. Because the transcribers included Anglicans, Calvinists and Reformers, it is more bipartisan than other translations, especially the 15th century contemporaries. The discovery of the 2000-year-old Dead Sea Scrolls in 1947 confirms the accuracy of the King James Version as well. We believe that God maintained the purity of the Inspired Word in the King James Bible.
---
Some books inform. Some books reform. But, only the Bible transforms.
**********************
Faith tells us that no matter what lies ahead, God is already there.
***********************
Be careful for nothing; but in everything by prayer and supplication with thanksgiving let your requests be made known unto God - Philippians 4:6
---
***** Special Product *****
This quarter will be offering the books on the study of Ephesians, #35 – 39, at a discounted rate. The standard price for those 5 books would be $30, but for the months of Oct – Dec 2019, we will be selling them for $24. This is a savings of $6.00. If you would like to order, just ask for the Ephesians special.
The offer only applies to the books and the offer ends January 2020.
---
The Recipe Corner with Iris
Chicken Every Sunday
1 small can green chilies
1 can cream of chicken soup
1 can white meat chicken
1 cup milk
3 cups cheddar cheese
1 sweet onion (chopped)
8 corn tortillas
salt & pepper to taste
In a medium saucepan – mix green chilies, chicken soup, chicken, milk, 2 cups of cheese over low/medium heat until melted. Line a 9 x 9 baking dish with 4 corn tortillas and chopped onion, pour in hot mixture, cover with remaining tortillas and top with cheese. Bake at 325° until bubbly. Enjoy!
---
Office Note
As another year comes to a close, we want to thank everyone for your continued support of Les Feldick Ministries. It is through you that we can spread the Gospel of Grace of our Lord and Savior, Jesus Christ!
Along with our thanks, we would like to remind you that if you are ordering Christmas gifts, please order as early as possible. To be safe, allow up to three weeks for Media Mail and a week for Priority Mail. That would mean calling or ordering online by December 3rd for free shipping and by December 17th for Priority Mail. It is best to not mail in Christmas orders, but if you do, add an extra two weeks to those dates. We are still just a small staff constantly receiving phone calls and hundreds of pieces of mail daily, so please don't compare us to Amazon or Wal-Mart.
Thank you
---
I am so humbled by and appreciative of your prayers, cards, and gifts of love. I can't thank you all enough for what you have done or tell you what it has meant to me during this difficult time. Larry and I were blessed with many wonderful years together, for which I'm so thankful to God. Please continue to remember me in prayer.
Jackie Sanders Jackie Sanders
---
Common sayings with Biblical Roots
At wits end
Psalm 107:27 They reel to and fro, and stagger like a drunken man, and are at their wits' end.
Hair stood up
Job 4:15 Then a spirit passed before my face; the hair of my flesh stood up:
The blind leading the blind
Matthew 15:14 Let them alone: they be blind leaders of the blind. And if the blind lead the blind, both shall fall into the ditch
An eye for an eye
Exodus 21:24 Eye for eye, tooth for tooth, hand for hand, foot for foot,
A drop in the bucket
Isaiah 40:15 Behold, the nations are as a drop of a bucket, and are counted as the small dust of the balance: behold, he taketh up the isles as a very little thing.
A little birdie told me
Ecclesiastes 10:20 Curse not the king, no not in thy thought; and curse not the rich in thy bedchamber: for a bird of the air shall carry the voice, and that which hath wings shall tell the matter.
---
We wish you a joyous holiday season!
May you wake each day with His blessings and sleep each night in His keeping, and may you always walk in His tender care! God Bless!
---
Les Feldick Ministries 30706 W. Lona Valley Rd., Kinta, OK 74552
1-800-369-7856 or 918-768-3218
---