Through the Bible with Les Feldick
Newsletter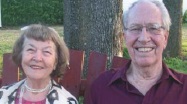 Dear Friends, (Submitted by Iris)
I don't know why Les wanted me to write the "Dear Friends" part of our Newsletter this time, but here I am. I do like to write if I know anything of interest, but with our awesome Lord, all things are interesting. I'm so thankful that He is with Les and me day in and day out caring for us and loving us. We are grateful for Him allowing us to remain in our own home under our own roof, taking care of each other. Les still has dizzy spells and his legs are very weak so he uses a walker to prevent falling. My Diabetes requires us to wake up every two hours all night, every night to ensure that my blood sugar has not dropped too low, as it has in the past. I have peanut butter, crackers and orange juice at my bedside just in case!! Even with these troubles, our health could be so much worse at our ages, so again, we are thankful!
Les and I still enjoy watching sports like Major League Baseball and Thunder Basketball when they are on television. On nice days we love to sit in the swing looking out over the valley and reminisce. We still spend a good amount of time reading and answering our mail, so we keep busy for 91 and nearly 87. We both have good appetites and enjoy eating yummy fresh veggies brought by friends and family and our own fresh beef and other good foods. At night, we praise the Lord, again, for his many blessings and sleep very well.
We want to thank you all, once again, for your prayers, support, gifts, love, tracts, poems, letters, and photos (we keep every picture) and your continued interest in the program and eagerness to learn more about God's Word. We really appreciate ALL of you very much!
---
What in the World
If our ministry and message is faulted, more than anything it's for our stand on Faith + Nothing. Why? Because most of Christendom is still in the 4 gospels, Christ's earthly ministry, legalism, and the Kingdom gospel. Here are just a few examples.
Acts 2:38 Then Peter said unto them, Repent, and be baptized every one of you in the name of Jesus Christ for the remission of sins, and ye shall receive the gift of the Holy Ghost.
James 1:22-25 But be ye doers of the word, and not hearers only, deceiving your own selves. For if any be a hearer of the word, and not a doer, he is like unto a man beholding his natural face in a glass: For he beholdeth himself, and goeth his way, and straightway forgetteth what manner of man he was. But whoso looketh into the perfect law of liberty, and continueth therein, he being not a forgetful hearer, but a doer of the work, this man shall be blessed in his deed.
Matthew 19:17 And he said unto him, Why callest thou me good? there is none good but one, that is, God: but if thou wilt enter into life, keep the commandments.
I John 5:1-3 Whosoever believeth that Jesus is the Christ is born of God: and every one that loveth him that begat loveth him also that is begotten of him. By this we know that we love the children of God, when we love God, and keep his commandments. For this is the love of God, that we keep his commandments: and his commandments are not grievous.
Now compare all of that with Paul's gospel, authorized by Acts 9:15 But the Lord said unto him, Go thy way: for he is a chosen vessel unto me, to bear my name before the Gentiles, and kings, and the children of Israel
Galatians 1:11 & 12 But I certify you, brethren, that the gospel which was preached of me is not after man. For I neither received it of man, neither was I taught it, but by the revelation of Jesus Christ.
I Corinthians 15:1-4 Moreover, brethren, I declare unto you the gospel which I preached unto you, which also ye have received, and wherein ye stand; By which also ye are saved, if ye keep in memory what I preached unto you, unless ye have believed in vain. For I delivered unto you first of all that which I also received, how that Christ died for our sins according to the scriptures; And that he was buried, and that he rose again the third day according to the scriptures
This contains none of the requirements of the Kingdom gospel, no repentance for salvation, no baptism, and no good works, just BELIEVE - Romans 1:16 For I am not ashamed of the gospel of Christ: for it is the power of God unto salvation to every one that believeth; to the Jew first, and also to the Greek.
---
In memory of our daughter, Laura. We sure do miss her. She died on October 15th, 2017 after 13 years of quadriplegia, in a wheel chair, with numerous problems. Thank you for all the prayers.
God saw you getting tired when a cure was not to be.
He closed His arms around you and whispered "Come to Me."
In tears we saw you sinking, we watched you fade away.
Our hearts were almost broken; you fought so hard to stay.
But when we saw you sleeping so peacefully free from pain,
We could not wish you back to suffer so again.
So keep your arms around her Lord, and give her special care.
Make up for all she suffered and all that seemed unfair.
---
A look back at Laura's Note ~ taken from Jan – March 2013 NL
It is difficult to believe that 2013 is upon us. Years come in and years go out. Looking back, it amazes me that I can see God's hand so obviously in my life and it is easy to arrive at the conclusion that God is in control. How awesome and comforting to know that the creator God is a God who is concerned about each of us and our own individual bag of problems. He is there to give us strength and peace and He has promised to never leave us or forsake us. So, I look at the future with trepidation and yet with calm assurance because I know that we are in His hands, I know that we can go to His word for solace and strength, and I know that He hears our prayers. We are definitely living in perilous times and yet we can have the peace that passes understanding. Personally, I often go to the Psalms when I get fearful or down in the dumps. David was so human and it seems to me that he wrote something for every situation that we find ourselves -- whether it is sadness, fear, joy or praise. David was such a man's man -- a leader and a warrior -- and yet he had a soft side -- God's word says that one time he even wept until he had no more tears. He had many human failings [allowing me to identify with him] and yet God's word says that David's heart was after God's. Loving David as He did shows me a picture of God's great mercy. Also, David is often considered to be a picture [a ''type''] of the Lord Jesus Christ so that is a secondary dimension to so many of the Psalms. Another aspect cradled within numerous Psalms is prophecy. Serious Bible scholars can enjoy the Psalms as well as the casual reader. If you are not already an avid fan of the Psalms, check these out:
** For times of fear: Psalms 23, 27, 46, 55, 61, 62, 91, 121
** For times of despair: 6, 13, 31, 57, 71, 142, 143
** For times of praise: 30, 47, 67, 93, 96, 98, 100, 104, 107, 135, 145, 148, 149, 150
Of course there are numerous, numerous individual verses or partial chapters that target our various needs and actually David is only one of several authors so there is something for everyone in the Psalms. My personal favorites are the longer Psalms of praise.
---
Recipe from Iris
This is more ingredients than I usually use in a newsletter recipe, but it is very good! Hope you enjoy!
CORN CASSEROLE
1 can cream style corn
1 can whole kernel corn, drained
1 package Jiffy corn bread mix
½ cup butter, melted
1 - 8 oz package cream cheese (room temp), cubed
3 eggs lightly beaten
¾ cup picante sauce
1 red bell pepper chopped fine
black pepper to taste
Preheat oven to 350 degrees. Coat a 9x13 baking dish with oil. Mix all ingredients thoroughly and spread into baking dish. Bake for 45 minutes.
---
Happy Thanksgiving!
2 Corinthians 4:15 For all things are for your sakes, that the abundant grace might through the thanksgiving of many redound to the glory of God.
1 Timothy 4:4-5 For every creature of God is good, and nothing to be refused, if it be received with thanksgiving: For it is sanctified by the word of God and prayer.
---
Office Note
Change… it can be a wonderful thing, but also a difficult pill. One of the biggest challenges for us here at LFM is keeping up with ever changing technology, while keeping the integrity of the program intact. At the beginning of the year we cycled back to the first programs, which, as many of you know, were recorded in the early 1990s. Some of the information that was on those first recordings is no longer valid. To name just a few changes, we no longer carry VHS or cassette tapes as they are obsolete, we have an updated address, some of the phone numbers written on the chalk board do not belong to the ministry, and certain seminar teachings Les mentions are no longer available. As we have mentioned in a previous newsletter, the programs are being digitized to preserve them and insure the teaching is available until the Lord calls us home. Concurrent to the digitizing, we are attempting to correct any old, outdated or incorrect information. The best way to do this is to simply cover up the old with the new. We have NOT changed any of the teaching or done anything to commercialize the program IN ANY WAY. We are sorry if some of the text or text boxes on the screen during the program are distracting, but they were the same size and lasted the same duration of time when the programs were first recorded in the early 90s. Corrections also may include some glitches being covered up that would otherwise cause networks, which have stringent quality standards, to reject certain programs. A less than one second glitch can cause a major network like ION to reject an entire show. Most viewers would prefer a few second flash of a text screen to missing an entire program should a network declare it "unplayable". So, while you may notice a slight difference in the look of the text or pictures of products on the screen, please be assured that the teaching and true meaningful content of the program will remain the same.
---
Reminders
* Although we know it is done with the best intentions, please do not leave flyers advertising the ministry on cars, on doors, etc. In many places it is prohibited, leading people to believe the ministry is acting unlawfully.
* If you are ordering Christmas gifts, be sure to allow up to six weeks for delivery. It's our busiest time of year!
* Let us know if you would like a receipt of 2018 donations.
---
Thank you for making it another great year at Les Feldick Ministries!
---
Les Feldick Ministries 30706 W. Lona Valley Rd., Kinta, OK 74552
1-800-369-7856 or 918-768-3218
---