Through the Bible with Les Feldick
Newsletter


Note from Les
Dear friends,
We are now with our youngest son, Todd, and his family on the south shore of Lake Superior, east of Duluth, MN. We have just finished our four days with Pastor Mark Matychek and his wife Kathy in south Minneapolis. We were at their church on Sunday for Sunday School and church service, then out to the campground at Osceola, Wisconsin, for our 14th annual retreat and Bible Conference on Monday, Tuesday, and Wednesday. Over 200 in attendance, with music and singing like a taste of Heaven. It has been the best therapy Iris could have hoped for. She is walking without a walker or cane, and is beginning to gain back a little of the 26 pounds she lost. So, all your prayers are coming to fruition! How we thank our loving Lord for every one of you. We plan to be home for our annual Labor Day picnic. After that, we hope to resume our Oklahoma classes, after a whole year's hiatus. So, let me repeat. We thank you from the depths of our hearts for all your prayers, cards, letters, and gifts during Iris' year of surgeries.
Long distance travel is still on hold.
---
What in the World?
The best way to explain the Middle East in light of scripture is to simply read Psalms 83. There you will find the alignment of the Arab world and their confederates coming against Israel. Then follow with Ezekiel 35 and you will see God's response. Follow that with Ezekiel 38 and 39 and you'll find the end of much of the Arab and Muslim world. It doesn't even need commentary.
---
It is estimated that Paul traveled approximately 13,000 miles in his missionary journeys.
---
Paul's revelation of Jesus Christ happened on Mount Sinai in Arabia – the same mountain Moses received the 10 Commandments.
Galatians 4:24, 25
---
From the Mailbox
We are blessed here at the ministry to receive a lot of great notes and letters. Les and Iris still read every one. We thought we would share a couple of those letters with you:
I thought I was saved when I was baptized when I was 12 years old. Through the years I have tried to understand my Bible by attending church and trying to read my Bible (with no real understanding of the words). After I retired, I found your program on dish. I have walked verse by verse daily through the Bible with you and you have helped me understand the Scriptures. It has been a real joy and I feel blessed that you have spent most of your life helping others like me understand the Bible and Paul's Gospel. My soul would have been lost forever and I would have never found salvation if it had not been for you and your program helping me understand. Thank you and God bless you for your Through the Bible series.
----------------------------------------------------------------
After sixty plus years of rejecting God, I can truly say I am now saved by grace. My wife passed away two years ago. She tried for 40 years to convert me. She watched Through the Bible for years and had most of the transcript books. I started watching about a year ago and soon I could see how the Bible all comes together and make sense. Thank you for helping to change my life. I pray for you every day.
---
What About the Trinity?
We find the pluralality of God right away in Genesis 1:26 (Elohim) while in Isaiah 48:16 we find the son (Jehovah, translated in to English as LORD, with all capital letters) speaking of the Father (Lord God-only the first letter capitalized) and the spirit. Isaiah 61:1 is another example. In Matthew 3:16 & 17, we see God voicing his pleasure in the Son with The Holy Spirit, in this instance, descending "like a dove ". There is much in Scripture supporting three separate entities and it is a great subject to do a Bible study on even though it is a concept that is sometimes difficult for the finite mind to grasp.
---
THE BEST IS YET TO COME!!!
(for believers)
---
Is Hell Eternal?
Many preachers are now teaching that hell is either nonexistent or that hell is short term – that people either suffer for little while then become nonexistent or, after their time of punishment, they are then allowed into heaven. Although this list may not contain all the passages relating to the eternal existence of hell, the following are the ones that can be found with a quick word search:
The verses indicating hell is eternal: Matthew 25:46, Mark 3:29, Hebrews 6:2, Jude 1:7
The verses indicating it is everlasting: Daniel 12:2, Isaiah 33:14, Matthew 18:8, Matthew 25:41, Matthew 25:46, Luke 16:9, ll Thess. 1:9
The verses indicating it is forever: Numbers 24:20 &24, Isaiah 3:13, Psalms 9:5, Psalms 52:5, Job 20:7, Jeremiah 17:4, ll Peter 2:17, Jude 1:13 Revelation 14:11, Revelation 20:10
The doctrine of everlasting hell is not taught in many churches anymore and it is definitely a nicer thing to be told that hell is transient or nonexistent but in reality Scripture certainly indicates it is forever.
---
Someone said
"The ignorant do not know that they are ignorant."
---
Office Note
As another year winds down, we would like to thank our supporters for their faithfulness and prayers. We just want to remind you of a couple of things that will make it easier for us as well as help you out. First, please remember to make your Christmas orders as early as possible. We will make every effort to get those gift orders out on time, but do not have easy access to FedEx or UPS, so keep in mind, it will mail through the Postal Service. Second, if you need a year end donation receipt, please let us know as soon as possible after the last donation of 2014. Thank you all again!
---
A little bit of trivia:
What book of the New Testament tells of a church that did not welcome the apostles?
Answer: Third John 9 & 10
---
The number 40
The word 40 is found in 98 verses of the Bible, not counting those verses where it was part of a bigger number such as 140 (If I counted correctly).The number 40 is usually thought of as the period of testing and is found numerous times throughout Scripture and most generally, it is obviously in relation to testing, while other times it may be necessary to think about how God intends it to be a test. (Such as David ruling Israel for 40 years and Solomon ruling Israel for 40 years.)Obviously the 40 year time segment was used over and over in God's word and those with the Internet can use a search engine for the information and find all the various References but here are a few examples that might be not quite as well known: Elijah fasted 40 days before beginning his public ministry. Jesus, as a baby, was presented to the temple at 40 days of age. Goliath called out in defiance to the armies of Israel for 40 days before David killed him. The earthly ministry of the Lord Jesus was 40 months. Moses' life was divided into three 40 year segments – 40 years in Egypt, 40 years in the wilderness, and 40 years leading the children of Israel. He was on Mount Sinai 40 days and 40 nights on two separate occasions. Jonah warned Nineveh for 40 days. Noah waited 40 days after the rains ceased to open the window of the ark for the first time. It took the spies 40 days to search out the land of Canaan. And of course there are numerous others. I find 5 (the number of Grace) intriguing and 7 (the number of perfection) interesting but, to me personally, the number 40 is the most compelling number in God's word :-)
---
BIG NEWS
We wanted to share with all of you a blessing from the Lord. We were able to add 24 feet on to the ministry and it will house a small print shop, capable of doing all of the ministries' printing needs. By bringing the printing in-house, we are going to be able to save a considerable amount of money each year and we praise God for this opportunity and we thank all of you for the part that you play/played in the endeavor of sharing God's word. We thank you so much for the financial help as well as all the prayers!!The original building, built in 1998, was a two room A frame. Then in 2002, we added a 20 x 20 addition, followed by another addition in 2005. The building you see now is the finished product after the final addition. We are now able to do every facet of the ministry in-house except the actual mailing of the newsletter. (Although we will print it)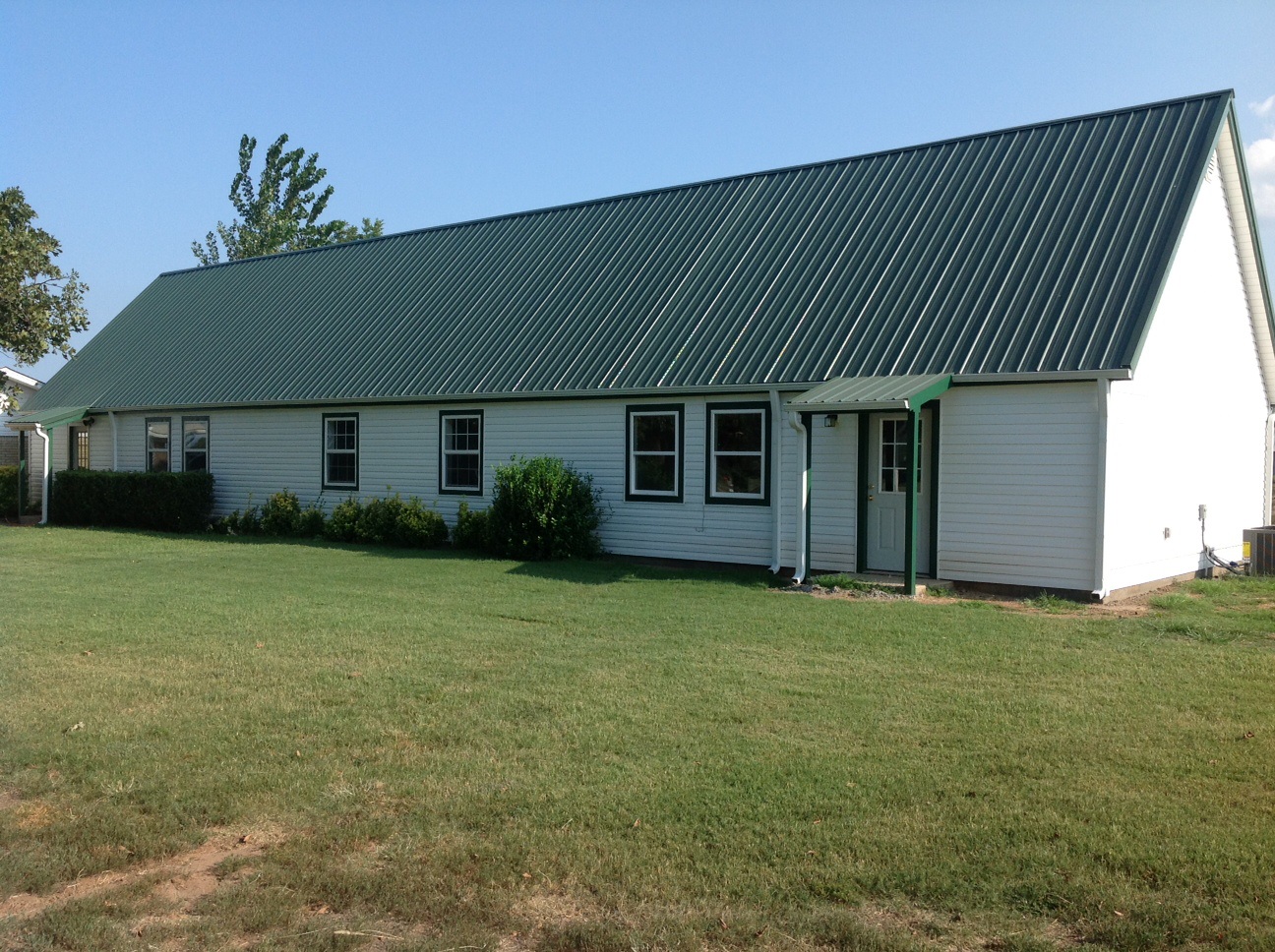 ---
What About Adam?
What about Adam? Was he bisexual? And was it a rib bone or the female reproductive organs? It's a controversial subject and everyone can come to their own conclusion. It doesn't affect our salvation so it's more something of interest that we can ask God about when we get to heaven rather than something to cause strife here on earth. However, for those interested, the first definition of bisexual in any dictionary will say "an organism having both male and female reproductive organs".(The modern definition of bisexual having to do with homosexuality is now a third meaning in some modern dictionaries.) The Hebrew word that got translated into rib is TSELA and most Hebrew words have more than one meaning. Many Bible scholars feel it would have better been translated "side" or "side chamber" which is also one of the meanings of the word. If that is the case, when one looks at Genesis 5:2, and we see that God "called THEIR name Adam", it certainly seems indicate that what God used to create the woman was already within the man. And what is the basic building block that drives an organism to become feminine? The answer would be the female hormones and of course we all know that the female hormones are driven by the ovaries. It's all just food for thought but extremely plausible considering there are still hermaphrodites born every once a while to this very day.
---
Hello, Dear Ones,
Les told me to put in a little note. It has been 13 years since Todd and I moved North, and I stopped working at the ministry. It has been a wonderful 13 years. We moved with four little Feldicks and now have six. Although, they are no longer little, being 22, 20, 19, 17, 9, and 7. I have had the supreme pleasure of meeting many of the voices that I talked with on the telephone throughout the years at the ministry. One of the places that has taken place is at the retreat at Osceola, which I and the children have attended for the past 11 years. What a joyous time of spiritual refreshment. Osceola is the highlight of our year. No greater joy than to be with fellow Grace believers who listen to Les Feldick teach!! This year Todd was able to attend, making it extra-wonderful! The folks traveled a little further north after the retreat and came home with us. We absolutely love having them here. They get to rest, be spoiled, and cooked for (although, I know that so many of you do the same for the folks, and how I THANK YOU and love you all for your love and care of the folks). Pure JOY for us!! Again, Happy hello to all of you with whom I talked during my years at the ministry and a joyous hello to all of you whom I do not know, but with whom I share a common bond in the Grace of our Lord Jesus Christ. May we stand ever firm in the Grace of our Lord, especially as the time grows short. If I do not see you on this earth, we will meet in the air at the trumpet call!
In His Love and Grace, Kim Feldick
---
Self-test for gauging your spiritual maturity
How much do you hate sin?
How excited are you about heaven?
How much time do you spend communicating with God – (prayer /Bible time)?
How concerned are you about the salvation of others?
How much do you realize you are undeserving of God's mercy?
How much time do you spend giving God thanks and praising Him for the good things?

---
Interesting tidbit
God's word tells us that God has named all of the stars. There are untold countless numbers of galaxies in the universe and scientists tell us that there are approximately one hundred thousand million stars in the Milky Way Galaxy alone. (Supposedly naming all the stars in our galaxy alone would take a person 2500 years, assuming they could name one star per second.)
---
Laura's Note
As of around August 1st, there were 24 countries in Africa involved in war including 146 different militia groups. In Asia, 15 countries involved in war including 129 different groups and in the Middle East, eight countries with 169 different groups of militias, terrorist organizations etc involved. In Europe, nine countries with 70 groups and in the Americas, five countries in wars represented by 25 different groups. (As of 2013 the Pentagon admitted United States is openly involved in 74 skirmishes around the world, not counting black op operations.)And yet, although we hear some about Iraq, Syria and Ukraine, what little nation is on the news every day? And despite the fact that Israel is the only country in the Middle East that stands for civil liberties and religious freedom, and is simply fighting back to defend herself, Israel is, more often than not, the target of malice and condemnation. Anti-semitism is on the rise worldwide. Why? Matthew 24:6-9
6 And ye shall hear of wars and rumours of wars: see that ye be not troubled: for all these things must come to pass, but the end is not yet. 7 For nation shall rise against nation, and kingdom against kingdom: and there shall be famines, and pestilences, and earthquakes, in divers places. 8 All these are the beginning of sorrows. 9 Then shall they deliver you up to be afflicted, and shall kill you: and ye shall be hated of all nations for my name's sake.
---
Les Feldick Ministries 30706 W. Lona Valley Rd., Kinta, OK 74552
1-800-369-7856 or (918) 768-3218
---