Through the Bible with Les Feldick
Newsletter


NOTE FROM LES
Dear Friends, Once again, greetings in the name of our Lord Jesus Christ. How we thank God every day for every one of you. We rejoice with you who are being blessed-- whether a wedding, the birth of a child, or success in some endeavor. Likewise, we are heavy hearted with those of you who have lost a loved one or are going through health or financial problems. It is our joy and privilege to take you all into the throne room!
We just returned from a glorious five days in the Seattle area. What a pleasant shock to have 550-600 in attendance at our all-day Saturday seminar. Afterwards someone commented ''what a responsive audience!'' And they were! It was also a reprieve from this Oklahoma heat.
As I write this, we are making preparations for our next trip which will be to the Chicago area as well as Duluth and Minneapolis, MN, a stop in Ft Dodge, IA, Kansas City MO and Lancaster, WI. We ask for your prayers as we travel and teach.
---
Laura's Note
There is a quote from an unknown author that goes something like this ''I asked Jesus 'how much do you love me?' And in answer, he stretched out his hands and died.'' I sometimes wonder how often we actually meditate on what Christ did it for us on the cross and what results we can have because of it. One of the main reasons that we know our Bible to be the true word of God is because of its life changing ability. Not only are our lives changed because of the work of the cross, but our eternity is secured and that eternity is so wonderful that it is beyond comprehension. I read a comment once not too many weeks ago that went something like this: ''somebody truly saved absolutely has to have a grateful heart.'' And how true that is. If we think about what Christ did for us by his death, burial and resurrection, we should have so much gratitude to God that we should be mightily moved, at least on occasion, if nothing else but by humility-- to think that the very God of creation loves us so much that he provided a way for us to come into his very presence and live in a place that he has prepared for us for ever and ever. What an amazing thought!
Interesting fact: 27% of all Bible verses relate to prophecy [some of which have been fulfilled while others are yet to be fulfilled.]
Interesting fact: In July, it was reported in Yahoo! News that NASA is now saying that each star has an individual ''song''. In Job 38:7 it says ''when the morning stars sang together ...'' .
---
Office Note
Thanks to all of you who remember Les Feldick Ministries with prayers and financial support. We also want to thank you for remembering to write on the memo line of your checks the words "donation" and/or "order" and for writing the invoice number when you're making a payment.
Many of the callers we speak to are surprised when they hear that the programs that they are currently viewing are from the 1990s. Unless some type of error occurs, the programs should air sequentially, concluding with the final show which was taped at the end of 2009.
Then, should the Lord tarry, we will start the process over again. It takes nearly 4 years to air the series in its entirety.
If anyone is waiting on books that were on backorder and have not yet received them, please call the ministry and let us know. Our printer ran out of binders and could not get more when the tsunami hit Japan. When we think of the awesomeness of nature and the power of the weather, isn't it so good to know that God is in control and that all things work together for good for those who love Him and are called according to His purpose?!
Finally, Melissa Reese would like to send a heart felt "thank you" to those of you who remembered her with cards, calls, financial support, and prayers after Andy, her husband (and former ministry employee) passed away in May. Your concern and kindness have been a great comfort during this difficult time. Melissa and her son Denver miss their husband and daddy terribly, but are secure in the knowledge that he is with the Lord.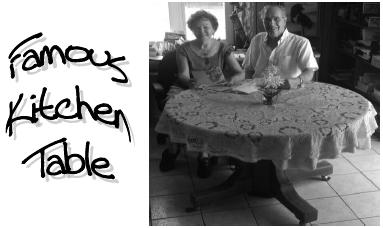 ---
Ministry Website
If you happen to be one of the many who utilize and enjoy reading or listening to the programs on the website, you can thank Matthew McGee & Robert Pennybaker. We have introduced you to Matt in the past and would like to tell you a little about Robert Pennybaker. We requested the following bio from Robert in 2010, which he submitted at that time. Sorry for the delay, Mr. Pennybaker!
The ladies in the office asked if I'd write a little bio about my background & family, how I came to meet Les and what his teachings have meant to me, what led to my volunteering for Les Feldick Ministries (LFM) and briefly describe what I do for LFM.
Robert Pennybaker: I grew up in a Christian environment in central Oklahoma and met my wife, Lu Ann, at the Baptist Student Union at Oklahoma University. In 1990, I moved to the Tulsa area to work for an electric utility as an engineer. Lu Ann and I married the next year after she accepted a position as a mainframe programmer. God has blessed us with three children that attend an independent Christian school on whose Board I serve. I continue to work for that power company and my wife has been employed by the same for many years now out of her home office. We study/worship at First Baptist Church, Tulsa.
Meeting Les: I became aware of LFM through a friend at work. Matthew (Matt) McGee (LFM website operator) and I met in 1994 via a corporate reorganization whereby he and I transferred into the same department. In 1995, at Matt's invitation, Lu Ann and I attended Les' weekly Bible study in Tulsa where for subsequent weeks he taught the Roman Road plan of salvation, referenced verses all throughout the Bible, and incorporated the succinct gospel as presented in 1 Cor. 15:1-4.
Les' teaching has meant a lot to me---in particular---his showing in scripture the contrast between the gospel of the Kingdom and gospel of Grace. With the scriptures (and repetition), Les has taught us about the "secret" things of the Lord (Duet. 29:29), the "mystery" of the church, and how the entire Bible fits together as a whole. Due to Les' teaching, I remind myself to ask the Holy Spirit "what does the Book say?" rather than lean on what men prefer it say. Les' teachings and encouragement to "take God at his Word" has strengthened my faith considerably and enabling me to confidently and clearly share with others about Christ's finished work on the cross and resurrection and how Paul teaches us to rely on "faith plus nothing."
Helping LFM: In 1997, my work friend Matt turned a great idea into reality by voluntarily setting up the www.lesfeldick.org website. Shortly thereafter in 1998, with my trusty Onkyo cassette-tape deck, Matt transcribed all of Les' teachings (the first 34 books at that time) to make them available on the internet in Real Audio (RA) format. From 1998 to present, I've performed the audio conversions from Books 35 onward. In 2004, we switched to using DVD as the source for the internet audio files for improved audio quality. For several years now we've been able to include both MP3 and RA format audio files on the website. Presently, taping has ceased at Book 82 but we plan to improve the audio quality of the early cassette-tape sourced books by re-converting them from DVD. I am humbled and it provides me great joy when Matt shares an email Les received, some from island nations I'd never heard of, that explain how the listener has become a believer due in part to Les' teaching via the internet. If not here on earth, I look forward to meeting in heaven each and every one of you who have enjoyed listening to Les' teaching via the audio files.
Yours, in our resurrected Jesus Christ, Robert Pennybaker.
---
What In The World
A FEW WORDS ABOUT GRACE -- By William R. Newell
The Nature of Grace:
1. Grace is God acting freely, according to His own nature -- as Love; with no promises or obligations to fulfill; and acting of course, righteously -- in view of the cross.
2. Grace, therefore, is uncaused in the recipient: its cause lies wholly in the GIVER, in GOD.
3. Grace, also is sovereign. Not having debts to pay, or fulfilled conditions on man's part to wait for, it can act toward whom, and how, it pleases. It can, and does, often, place the worst deservers in the highest favors.
4. Grace cannot act where there is either desert or ability. Grace does not help -- it is absolute, it does all.
5. There being no cause in the creature why Grace should be shown, the creature must be brought off from trying to give cause to God for His Grace.
6. The discovery by the creature that he is truly the object of Divine grace, works the utmost humility: for the receiver of grace is brought to know his own absolute unworthiness, and his complete inability to attain worthiness: yet he finds himself blessed - on another principle, outside of himself!
7. Therefore, flesh has no place in the plan of Grace. This is the great reason why Grace is hated by the proud natural mind of man. But for this very reason, the true believer rejoices! For he knows that "in him, that is, in his flesh, is no good thing; and yet he finds God glad to bless him, just as he is!
The Place of Man under Grace:
1. He has been accepted in Christ, who is his standing!
2. He is not "on probation."
3. As to his life past, it does not exist before God: he died at the Cross, and Christ is his life.
4. Grace, once bestowed, is not withdrawn: for God knew all the human exigencies (needs) beforehand; His action was independent of them, not dependent upon them.
5. The failure of devotion does not cause the withdrawal of bestowed grace (as it would under Law) . For example: the man in I Cor. 5:1-5, and also those in 11:30-32, who did not "judge" themselves, and so were "judged by the Lord, -- that they might not be condemned with the world!"
The Proper Attitude of Man under Grace:
1. To believe, and to consent to be loved while unworthy, is the great secret.
2. To refuse to make "resolutions" and "vows;" for that is to trust in the flesh.
3. To expect to be blessed, though realizing more and more lack of worth.
4. To testify of God's goodness, at all times.
5. To be certain of God's future favor; yet to be ever more tender in conscience toward Him.
6. To rely on God's chastening hand as a mark of His Kindness.
7. A man under grace, if like Paul, has no burden regarding himself; but many about others.
Things Which Gracious Souls Discover:
1. To"hope to be better" is to fail to see yourself in Christ only.
2. To be disappointed with yourself, is to have believed in yourself.
3. To be discouraged is unbelief, -- as to God's purpose and plan of blessing for you,
4. To be proud, is to be blind! For we have no standing before God, in ourselves.
5. The lack of Divine blessing, therefore, comes from unbelief, and not from failure of devotion.
6. Real devotion to God arises, not from man's will to show it; but from the discovery that blessing has been received from God while we were yet unworthy and undevoted.
7. To preach devotion first, and blessing second, is to reverse God's order and preach Law, not grace. The Law made man's blessing depend on devotion; Grace confers undeserved, unconditional blessing: our devotion may follow, but does not always do so, -- in proper measure.
*A special thank you to George Wesley from Missouri for sending this article to us.
---
Note for Praise and Thanksgiving
On August 3rd, the ministry building, Les and Iris's home, and two barns were hit by very strong wind [whether straight-line winds or tornado we are not sure]. The ministry and the house damage would have to be classified as only slight and it could have been so much worse! [The barns did not fare so well]. To all of us, it seems like Satan is throwing rocks but the mighty protective hand of the Almighty God prevailed and for that we are so thankful!
---
… for if righteousness come by the law, then Christ is dead in vain. Gal 2:21
---
Les Feldick Ministries 30706 W. Lona Valley Rd., Kinta, OK 74552
1-800-369-7856 or (918) 768-3218
---