Through the Bible with Les Feldick
Newsletter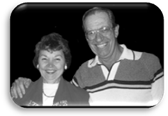 NOTE FROM LES
Dear Friends, We would like to again thank you for your love and support. We spent the month of January at home but February opened with a full week in Florida. The first half of the week we had a time of reunion and fellowship at Temple Baptist, which is north of Fort Myers. The last half of the week we were in Englewood at the Methodist church where again we had a great time. Both places had good turnouts in attendance and it was such a rewarding experience to hear the testimony of those who had come out from spiritually dead backgrounds and stepped into a vibrant relationship with our Lord and Savior Jesus Christ by simply believing in Paul's gospel.
Just returned from a fabulous three day seminar in Branson, MO. I must give profound thanks to Dan and Renae Peters for not only giving a tremendous discount on the hotel rooms, but also letting us use the theater facilities free of charge. We had folks from almost all the mid-west states, but also Pennsylvania, Florida and Alabama. We had a great time of meeting old friends and making new ones. We hope to have all the sessions available on DVD.
---
WHAT IN THE WORLD?
Ezekiel 16: 49 - Behold, this was the iniquity of thy sister Sodom, pride, fullness of bread, and abundance of idleness was in her and in her daughters, neither did she strengthen the hand of the poor and needy.
Matthew 24: 37, 38 - But as the days of Noah were, so shall also the coming of the Son of man be. For as in the days that were before the flood they were eating and drinking, marrying and giving in marriage, until the day that Noe entered into the ark,
Luke 17: 26-28 - And as it was in the days of Noe, so shall it be also in the days of the Son of man. They did eat, they drank, they married wives, they were given in marriage, until the day that Noah entered into the ark, and the flood came, and destroyed them all. Likewise also as it was in the days of Lot; they did eat, they drank, they bought, they sold, they planted, they builded;
Revelation 18:9-16 - And the kings of the earth, who have committed fornication and lived deliciously with her, shall bewail her, and lament for her, when they shall see the smoke of her burning, Standing afar off for the fear of her torment, saying, Alas, alas that great city Babylon, that mighty city! for in one hour is thy judgment come. And the merchants of the earth shall weep and mourn over her; for no man buyeth their merchandise any more: The merchandise of gold, and silver, and precious stones, and of pearls, and fine linen, and purple, and silk, and scarlet, and all thyine wood, and all manner vessels of ivory, and all manner vessels of most precious wood, and of brass, and iron, and marble, And cinnamon, and odours, and ointments, and frankincense, and wine, and oil, and fine flour, and wheat, and beasts, and sheep, and horses, and chariots, and slaves, and souls of men. And the fruits that thy soul lusted after are departed from thee, and all things which were dainty and goodly are departed from thee, and thou shalt find them no more at all. The merchants of these things, which were made rich by her, shall stand afar off for the fear of her torment, weeping and wailing, And saying, Alas, alas that great city, that was clothed in fine linen, and purple, and scarlet, and decked with gold, and precious stones, and pearls;
The present global financial meltdown is God's way of bringing about the final new world order but it will first bring in a new global financial system. We are well on the way to a combination of all the religions of the world including apostate Christianity and this will be headed by a false prophet who will control the masses on behalf of the Antichrist. Remember that Paul speaks of the time of the appearing of the Antichrist and the opening of the seven-year tribulation as a time of peace and safety. [ 1 Thess. 5:3a For when they shall say, peace and safety; then sudden destruction cometh upon them...] Daniel also speaks of that time in [ Daniel 11: 21b but he shall come in peaceably, and obtain the kingdom by flatteries. ] I am not an economist nor a financial adviser, so don't buy or sell based on this but when this recession/depression once turns around, I think it will be just as meteoric as the present fall. Then the Antichrist will come on the scene and he will take credit for all the materialism expressed in the above scriptures. Also remember we who are in the body of Christ will not be here to witness these results. Our scenario for the end of our time here on earth is given by Paul in II Timothy. [II Timothy 3: 1-5 This know also, that in the last days perilous times shall come. For men shall be lovers of their own selves, covetous, boasters, proud, blasphemers, disobedient to parents, unthankful, unholy, Without natural affection, trucebreakers, false accusers, incontinent, fierce, despisers of those that are good, Traitors, heady, high-minded, lovers of pleasures more than lovers of God; Having a form of godliness, but denying the power thereof: from such turn away. ] We are almost there!
---
NOTE FROM LAURA
As we move towards spring, I find myself looking forward to the warmer weather and all that comes with springtime. I wait with anticipation for the trees to bud out, the grass to turn green, the baby animals to be born, and the warm breezes rather than the cold wind. I know that I am not alone in disliking the cold and I am always thankful that we live in Oklahoma where winters are much milder than so many of you experience. Through the winter I find myself disliking the short days, the cold temperatures, and being made to stay inside, not counting seeing animals out in the cold and the wildlife and birds having to scrounge to find enough to eat. Spring is such a welcome time and I think each year I look forward to more. It is so very much like my feelings of the rapture. For those of you who know me, you know that it is my favorite subject and that it is on my mind every waking moment. Each year I find myself looking forward to it more when I think about the glories that heaven is going to have compared with the awfulness of this earth. The downward slide of morals that I have seen in the last five years is almost unbelievable-- and I know that my knowledge of the real world is probably somewhat protected. Add to that the political and economical turmoil that I see going on all over the world and it all adds up to something I'm very much ready to see left behind. Although moving into spring from winter is great, moving from this earth to the glories of heaven is going to be absolutely awesome and I keep hoping maybe it will happen soon.
But until it does, I thought that I would let you know that I am doing okay. I'm so blessed to still be able to have a part in the ministry and part of my job is to watch the money. I am going to take this opportunity to share with you a little bit about the financial part of the ministry. We are a little bit different than many of the ministries out there because all donations go directly back into TV and radio while proceeds from our sales take care of all office expenses, salaries, and ministries within the ministry. That may sound confusing so I will clarify that point. We have a prison ministry in which we give free of charge the booklets and we also send many products free to foreign radio stations and foreign missionaries. So basically everything aside from actual radio and TV expense comes from the sales of the products we offer. As of right now, 100% of your donated dollar goes directly back to radio and TV and we are so happy to be able to say this! God has been so good to bless the ministry in so very many ways and we give Him the thanks and the glory. We want to thank all of you too for being a vital part of the ministry!
---
NOTE FROM OFFICE
Another springtime on this old earth and once again we are reminded how all of creation reflects God's perfect plan as what was dead and desolate once again brings forth life and bears fruit. Even in these turbulent times, we can still look out at the beautiful green landscape and appreciate the wonder of it. We just continue to pray that the end time part of prophecy will soon be fulfilled and we will find ourselves with Him before these new leaves fall again.
Many of you have asked about Andy, so we would like to update you on his condition since he suffered a stroke last October. There is much to be thankful for since he is mobile and his speech was hardly affected. There is now the possibility, however, that a tumor may be forming in his brain. This is a particularly frightening prospect since he has had brain surgery to remove a tumor before and has suffered with seizures for many years.
It seems the enemy does his best to cause turmoil in the lives of those who serve our Lord through working with this ministry. Please keep Les, Iris, their family, the office staff, and those who have helped with the books and program for many years in your prayers. We thank and love you all in Christ.
---
Attention to those of you who watch Les on ION television stations.
We were given a wonderful opportunity to expand the numbers of households that we are able to reach with the program by agreeing to change all of our ion stations to one time. If you watch Les on ION either by cable or by antenna, he is now on at 8 am Eastern time, 7 am Central and Mountain times and 8 a.m. Pacific time.[Same channel that he was on previously]
For those watching on satellite, the times are 8 a.m. Eastern time, 7 a.m. Central, 6 a.m. Mountain and 5 a.m. Pacific.
As we have gone national with ion, it means that we are now on many more cable companies in many cities that we were not previously-- as well as over the air. [Antenna]
Although we realize most will find us ''by accident'', if you know of anyone in a city that previously could not get Les, have them check and see if their cable company or local channel has ION.
---