Through the Bible with Les Feldick
Newsletter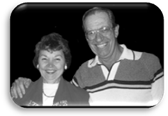 NOTE FROM LES
Dear Friends, After the response to our last newsletter, I am assuming that most of you are interested in our travels so once again, here's a recap: After the meeting in Quincy, IL which was sponsored by Donette and WTJR-TV, we had a beautiful drive back to Oklahoma and began preparing for the tour to Israel. All of our tours have been acclaimed, but this one seems so special. I guess partly because we had so many who traveled with us before.
We flew into Tel Aviv from over the Mediterranean about midmorning. It was clear and the whole coastline came into view, what a thrill! The land of the Bible! By the time, we got through Israel's customs, onto the two buses there were 92 of us, and it began to rain. Of all of our trips to Israel, never have we seen such a downpour. It rained nearly all day and much-needed water was running 2 feet deep in the ditches. Consequently, we had to confine our first day at the ruins of Caesarea on the sea to a few photos of the ruins of the amphitheater. Next, we stopped the buses so everyone could get pictures of the famous aqua duct. Then we arrived at our hotel in Tiberius by evening. Fortunately, the sun was shining the next morning and from then until we left, we were blessed with perfect weather. The next four days were spent visiting sites around the Sea of Galilee and up to Mount Herman where we could see eastward nearly to Damascus. There was a sign that pointed to Baghdad that said ''300 miles'' unbelievable!
On the fifth day, we moved to our hotel in Jerusalem. I always try to time our arrival at Jerusalem from Jericho at sunset. Why? All of Jerusalem's buildings are finished over with white limestone. So, can you imagine that white city awash in the rays of the setting sun? But the first day we arrived too early and I was so disappointed, but a couple of days later as we came back from Masada, the Dead Sea, and Jericho, we made the climb up to Jerusalem at just the perfect time, sunset! The bus driver put in the CD of ''Oh Jerusalem, Jerusalem''. You think there were not tears and goose bumps?
Naturally, on the return trip home there is always jet lag and colds, we have already received so many letters from our fellow travelers stating it was the very best trip they have ever been on.
We had just over a week to get over our jet lag and I had to recuperate from a cold (thankfully Iris had her turn with the cold last year and did not catch one this year) before leaving for San Antonio. Again, we had perfect weather and were able to drive it in a day's time. We arrived in the hill country of Texas on Monday morning and had classes every night through Thursday. Friday we drove home following state roads rather than interstate and enjoyed the country scenery the entire way.
While we were in Israel, someone asked if we were going to Israel again and I think I said, ''I don't think so''. Immediately someone suggested an Alaskan cruise. It spread like wildfire through both buses even though Iris kept telling them that it was only a rumor. However, there has already been such an interest that we are planning an Alaskan cruise for July 17th - 25th (write or call for brochure) if the Lord tarries and permits.
---
WHAT IN THE WORLD?
We had just arrived at our host's home, about 40 miles northwest of San Antonio, and sat down for a cup of coffee at their kitchen table and almost immediately Bill said ''I know that you emphasize Paul's apostleship, but have you ever noticed the particular Greek word in Acts 9: 15?''. His wife, being a native of Greece, no doubt was a reason for his awareness of all of this. Now if you are reading this, take note and if you have a good concordance follow up on this. I was stunned and so was a friend of mine who is a Greek scholar. In the entire New Testament, the word ''chosen'' is used 29 times. Most of these used one of two Greek words-- either eklegomai, which means to choose-[see Strong's number 1586] or eklektos, which means to select-[see Strong's number 1588]. But the word chosen in Acts 9: 15 is the only time this particular Greek word is used and it is ekloge-[see Strong's number 1589]-which means divinely chosen. Paul alone was divinely chosen to be Christ's spokesman to the Gentiles. That is why the Holy Spirit led Paul to write over and over again ''be followers of me''. [see I Corinthians 4: 16, I Corinthians 11: 1, Philippians 3: 17, I Thessalonians 1: 6, and II Thessalonians 3: 7 & 9]. So the next time someone says that emphasizing Paul is wrong or false, show them this article.
---
NOTE FROM OFFICE
As we enter one of the busiest times of the year at the ministry, and I'm sure for all of you as well, we do not cease to give praise for the many different ways in which we have been blessed. Our sincere gratitude goes out to the people who, through the Lord, are responsible for the growth in the numbers of stations on which the program airs, allowing literally millions of people to hear the true Word simply taught. We don't fail to recognize that each soul that comes to understand and accept salvation through faith on the finished work of the cross brings us closer to that blessed hope we so look forward to... the return of our Lord and Savior Jesus Christ!
We always want to remind our faithful supporters and ask that those of you that are new, please write on the memo line of your check or money order your name and address and what it is to be used for. For payments, please write invoice number, or if unavailable, the word "payment". For orders, please write "send" and the product type and numbers you would like. If the order is too large to fit on the memo line, you may include it on a separate sheet of paper. There is no need for an order form. It is also to your benefit as well as ours if you remember to include your name and address on the letters you send to Les, especially if they contain questions, as they may become separated from the envelope, making it difficult to send the reply. In addition, do not forget to keep us up - to - date on any address changes.
Once again, thank you so much for your friendship, prayers and financial support.
PLEASE CALL OR WRITE TO REQUEST YOUR YEAR-END STATEMENT
---
SPECIAL PRAYER REQUEST
We would like to ask that you keep our Office Staff in prayer. Over the last month or so we have been faced with illness and death, which has caused us to run behind in entering your payments, orders, and donations that we have received by mail.
On November 5, 2008 Delena's husband, Pastor Lonnie Williams, passed away unexpectedly. Please keep Delena and her three adult children and their families in your prayers.
Two weeks after Lonnie passed, Andy (who is married to Melissa) was asked to fill in for Sunday morning service and while preaching suffered a major stroke. He lost his left side to the stroke but has regained some muscle tone and has taken steps with the aid of a walker. He has a long way to go in his rehabilitation and recovery.
Thank you for your continued prayers.
---
MINISTRY EMPLOYEES
Melissa Reese - Has been with the Ministry since Aug 2005. She is the Office Manager and does a little bit of everything.
Cheryl Sexton - Has been with the ministry since 2001. She does the television and radio billing.
Janette Feldick - Has been with the ministry since 2003. She takes care of the DVD duplication.
Andy Reese - Has been with the ministry since 2006. He is unable to work until he recovers from his stroke. Please keep Andy, Melissa, and their family in your prayers. <><
Stormie Taylor - Has been with the ministry since 2006. She answers the phone and does data entry.
Delena Williams - Has been with the ministry since 2007. She answers phones, does data entry and helps dub tapes to air for television.
Ruby Starr -Has been with the ministry since 2005. She does the vhs tape dubbing and sorting & posting the mail.
Dayla Williams - Dayla started at the ministry in November. She does data entry and answers phones.
Erma Sexton - Erma has been with the ministry since 2004. She packages materials and keeps track of inventory.
---