Through the Bible with Les Feldick
Newsletter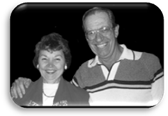 NOTE FROM LES
Dear Friends, Another three months have gone by and we are nearly halfway through 2008! Closer and closer to the day when once again Christ will intervene in the things of this world. What a blessed hope that we will not be part of the horrors that are coming. When Paul speaks of the perilous time coming in second Timothy 3:1-5, he makes no mention of death and destruction but only of a moral and spiritual breakdown and that is where we are. So again we are assured that before the wrath and vexation breaks out on planet Earth, we will be caught up. And how can we be for sure that we will not be left behind? Simply believe the gospel of I Corinthians 15:1-4, the finished work of the cross plus nothing! It is so simple; although so complex, we can never comprehend it all. It is unsearchable. See Ephesians 3:8. I want to thank all of you for your letters, your prayers on our behalf and the ministry's behalf and your financial support.
Lord willing, we hope to see and meet many of you in Bowling Green, Kentucky, Berkeley Springs, West Virginia, and Charlotte, North Carolina. Then in August, we will be back up to Minnesota for the 14th year of all day Saturday seminar followed by the eighth Wisconsin retreat. After a couple of days with Todd and his family, we will stop on our way back south for a weekend with Grace Bible in Lancaster, Wisconsin. After a couple weeks at home, we will drive back up to Iowa where I will be speaking at the state Gideon's convention. Then down to Quincy, IL on Monday Sept 15 for a bible study at WTJR TV studio.
Hebrews 6:4-6 - "For it is impossible to those who were once enlightened, and have tasted of the heavenly gift, and were made partakers of the Holy Spirit, and have tasted the good word of God, and the powers of the world to come, If they shall fall away, to renew them again unto repentance; seeing they crucify to themselves the Son of God afresh, and put him to an open shame."
How many preachers use these verses to scare their people into thinking they can be saved and then lose it? From our phone calls and letters, we know there are too many. The first rule of Bible study or interpretations is to ask ''who is writing and who is he writing to''. Not all agree, which is all right, but I feel that Paul is writing. Who is he writing to? He is writing to his kinsman according to the flesh. That would be the Jews. That is why it is called ''the letters to the Hebrews''. Now, as he is writing to the Jews, it follows that he was dealing with people who were ''on the fence''. They had one foot in Judaism and Temple worship, and one foot in Paul's doctrine of grace. The purpose of the letter was to step on over into that which is so much better.-[see Hebrews 6: 9 and Hebrews 8:6.] If they pulled back into Judaism, it was to their spiritual falling away. This has no bearing on us today. Once we place our faith in Paul's gospel, which is the finished work of the cross, we have assurance of Romans 8: 35- 39. ''Who shall separate us from the love of God? Shall tribulation, or distress, or persecution, or famine, or nakedness, or peril, or sword? As it is written, For thy sake we are killed all the daylong; we are accounted as sheep for the slaughter. Nay, in all these things we are more than conquerors through him that loved us. For I am persuaded, that neither death, nor life, nor angels, nor principalities, nor powers, nor things present, nor things to come, nor height, nor depth, nor any other creature, shall be able to separate us from the love of God, which is in Jesus Christ, our Savior.'' What a difference!
---
PLEASE! No manuscripts, books, or tapes for review and critique. I am honored by your respect for my opinions, but I am so covered up with letters and phone calls that I am usually behind in both of those categories and even more so after we've been traveling. I hope you understand.
---
NOTE FROM LAURA
As we were approaching time to get the newsletter together, I was wondering what I was going to write about. Then I received a couple of letters and phone calls that prompted me to write this. Although I wrote a similar note a couple of years ago, I thought I would share with you again the things that I believe and that help keep me going even though there is much I do not understand. Here they are:
#1 All badness and sadness come because of Satan and not of God.
#2 Although God has what I call ''veto power'', Satan is the prince of this earth and he hates mankind because we are God's favored creations. I believe it is God's mercy and goodness that keeps things from even being worse than what they are. Do I believe God allows things to happen? Yes.
#3 I believe that God has an overall plan for mankind, but also a plan for each of us who are his children. He desires that we bring him glory and sometimes we are able to bring him more glory because of trials we are going through or have gone through. Because I believe there is a reason for trials, it helps me get through them. I do not believe that things happen to believers because of some sin that was committed. We must never forget that we as believers in this age of grace are forgiven and have robes of righteousness because of our Savior's shed blood.
#4 Although we may want one path for our lives, God knows so much more than we. Isaiah 55: 8 and 9 tells us that His thoughts and ways are higher than ours.
#5 We have been given comfort in God's Word and we have a powerful tool in prayer. We have a support system in fellow believers.
#6 As believers, we know that this life is but an eye wink compared to eternity and that there is a new body in a perfect heaven waiting for us. Have you ever really tried to think about how insignificant our time on earth is compared to FOREVER?
#7 We have the blessed hope. Every day, no matter how bad the day, we can say that maybe tomorrow the trumpet will sound and we will be out of here.
#8 We have so much to be thankful for. If I can keep a thankful heart, a cheerful spirit usually goes along with it. When I focus on everything good that God has done for me and given to me, it makes the difficulties not seem so bad.
As a closing thought, I am going to pass on to you a little sentence I read on an envelope. It said "God made you on purpose, for a purpose.''
---
NOTE FROM OFFICE
We always want to remind our faithful supporters and ask that those of you that are new to please write on the memo line of your check or money order what it is to be used for. For payments, please write invoice number, or if unavailable, the word "payment". For orders, please write "send" and the product type and numbers you would like. If the order is too large to fit on the memo line, you may include it on a separate sheet of paper. There is no need for an order form. It is also to your benefit as well as ours if you remember to include your name and address on the letters you send to Les, especially if they contain questions. With the volume of mail, checks and envelopes may become separated making it difficult to send the reply. In addition, do not forget to keep us up to date on any address changes.
PLEASE NOTE: AUDIO'S ARE BEING DISCONTINUED! We have lowered the price from $22 to $16 and they are going fast. For those of you who receive products automatically either monthly or when the new products are made available you will need contact the office and change to something else.
---
Les Feldick Ministries is looking for someone who has a MAC computer and who knows how to use "Final Cut Pro 6". Please call 1-800-369-7856 and ask for Melissa. Thanks.
---