Through the Bible with Les Feldick
Newsletter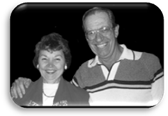 NOTE FROM LES
Dear Friends, I'm so thankful for the opportunity to write to all of you at once.  How often, after reading a letter,-(yes, we still read them all) - I have the urge to write an answer but I do not have the time.  So to all of you who have lost a loved one, we want you to know that we sorrow with you.  For those of you who are going through chemo or other health situations, know that you are in our prayers daily. Our prayers are also with those who have other struggles and trials. Never forget that our omniscient God knows all about everything. In addition, I want to thank all of you for your letters, your prayers on our behalf and the ministry's behalf and your financial support.  Even with the economy sliding, God has blessed and we are not only able to pay our bills, but have actually experienced growth in our outreach. We thank all of you for your part in this and give God the glory. How can we praise Him enough!? Now I will give a report on our cruise and Israel tour. A week before we were due to leave, there was an episode in Gaza and several Palestinians were killed. Consequently, the insurance company that covered our ship refused to let us dock in Israel. That meant a complete change in our itinerary. In order to fulfill the commitment of a cruise as well as the Israel tour, our tour host in Greece arranged for a different ship to take us around the Aegean. We stopped at Thessalonica, Ephesus, Rhodes, Patmos, and Athens. From Athens, we took an Israeli charter to Tel Aviv. Although it involved a lot more packing and unpacking than was originally planned, amazingly we were still able to visit all the places listed in the brochure. The most fun part for us was the stop at the Dead Sea. About half of our 200 folks ventured into the sea and half of them came out with a self-administered mud bath.
From the Dead Sea, we traveled north to the Sea of Galilee up the Eastern shore.  After the noon lunch, we were all taken across the Galilee to the western shore where we continued our tour of Capernaum and other sites around Tiberius. The Galilee Sea showed its true nature for when we left the Eastern shore it was smooth as glass, but when we were half way across the wind switched and immediately whitecaps appeared and by the time we docked on the western shore, the waves were two to three feet tall. I wonder how rough it was an hour or two later?!
We spent a short night in a hotel in Tiberius-(we had a 2 A.M. wake up call) and then caught a bus to Tel Aviv and the flight back to Athens. We had time after lunch for a tour of the city, notably the Parthenon and Mars Hill. The next morning was our flight back to New York. It was a glorious seven days of beautiful weather, great friendships- renewed and gained- and time in the Word. It was yet another time for which to praise our awesome God! We wish you all a glorious new year with hopes that perhaps this will be the year of the trumpet call!
When I first came to Oklahoma 32 years ago, I had a professional man who has now gone on to be with the Lord, in one of my classes who would invariably look up at me in consternation and ask "why hasn't this been taught to us before? I feel like I've been cheated for 50 years.
I am sure that many of you out there in TV-land have expressed the same thing. On the other hand, some have doubted, thinking I am some kind of nut. Nevertheless, the other day we received the following article in the mail. The individual who sent it said, "I just found this on the internet. Les, it is dated August 1935. It just proves you are not a nut. The following is reprinted with permission from the Berean Bible Society.
---
Bible Messages for Bereans - August 1935 by JC O'Hair
An introduction to a new monthly magazine
We are sending forth this first edition of Bible Study for Bereans with the purpose, desire and hope that we may stimulate, encourage, or provoke, real, honest, diligent Bible study among the children of God. The profound ignorance of the Bible among church members is appalling. We earnestly solicit and covet the prayerful cooperation of every spiritual child of God who appreciates God's Grace Gospel and who really desires to receive and search the Holy Scriptures without the fear or favor of man or religious organizations. It is needless and useless to appeal to believers whose denominational loyalty and pride, or preconceived opinions, interfere with honest, intelligent and unprejudiced study of the Word of God. Therefore, our Bible study is for Bereans.
In making this statement we think of two verses of Scripture: John 12:43 and Galatians 1:10: "They loved the praise of men more than the praise of God." "If I yet pleased men, I should not be the servant of Christ."
It has been repeatedly claimed that more than ninety-five percent of church members permit church leaders to do their thinking for them, and that ninety-five per cent of their instructors have been so influenced by the traditions of church fathers and by denominational church creeds, that fewer than five per cent of either leaders or followers are willing, if able, to study the Bible with un­biased minds and with open and honest hearts.
Let us ever bear in mind that no servant of the Lord has any new truth to present. Progressive revelation ceased with the close of The Revelation more than 1800 years ago. Since that time, "anything that is true is not new" and "anything that is new is not true", so far as the inspired Word of God is concerned. No believer, or group of believers, receive any special revelation of Divine truth, or interpretation of truth, as did the holy men of old who were moved by the Holy Spirit to give to us the holy Scriptures. The humblest, most ignorant member of the Body of Christ, the new-born babe in Christ, has just as much of the Holy Spirit as has the most gifted Bible teacher. Men are not led into truth by the Holy Spirit independent of the written Word of God. And most assuredly the millions of church members, who are in doctrinal error, have not been led by the Holy Spirit into the misinterpretation of the Scriptures. Human systems of interpretation leave us with inconsistencies and seeming contradictions in the Bible with unholy mixtures, which are displeasing to the Lord. All Scripture is profitable for doctrine, reproof, correction and instruction in righteousness. But all Scripture must be rightly divided for the true interpretation, appropriation and application.
A SIMPLE PRINCIPLE IN BIBLE STUDY
When we compare the statement I Peter 1:10 with the statement in Ephesians 3:9, we at once see the importance of obeying II Timothy 2:15. "Rightly Dividing the Word of truth." We are told in I Peter 1:10 that Israel's prophets foretold the sufferings and glory of Christ. In Ephesians 3:9 we are told that the "dispensation of the mystery" and the "unsearch­able riches of Christ" were hid in God and not made known to Israel's prophets. All through the Book of Acts and through the Epistles of Peter, Paul, James and John we must differentiate between that which Israel's prophets foretold would come to pass and that which none of them even hinted would come to pass: "not made known to the sons of men in other ages"; "hidden from generations." Colossians 1:25 and 26. Ephesians 3:3 to 5.
If there has been no change in God's program since the Epistles were written to the Ephesians and the Colossians, then this is still the Dispensation of the Mys­tery, which means the Dispensation of that which had been a Mystery until it was revealed by the glorified Christ to and through His Apostle Paul. For the students of the Word of God, for the members of the Church which is the Body of Christ, there should be nothing mysterious, mystical or hidden concerning the dispensation of grace and the mutual inheritance of Head and members of the Body, made alive together, seated together in the highest heavenlies, constituting the One New Man which God is now making, while His program and purpose concerning Israel have been temporarily abandoned. Ephesians 1:9 to 22; Ephesians 2:4-17. Aside from the Divine preservation of Israel in the world today God has suspended His covenants and promises with Israel and the other nations until He shall have accomplished that which He purposed in Christ Jesus ages before He made any covenants, concerning His Nation and their land of promise. II Timothy 1:9; Ephesians 3:11.
Israel's hope is identified with the sufferings and glory of Christ foretold by Israel's prophets. That hope will be realized when Christ shall be the Son of man on the throne of His glory. Matthew 25:31. There the twelve apostles will be seated with Him. Matthew 19:28. The Son of man is coming in power and great glory, Luke 21:27 to 31.   He will bring about the restitution of all things. Acts 3:21 Moses, Samuel, and all of the prophets, spoke of "these days." Acts 3:24. "These days" were promised in the covenants. Acts 3:25. At that time Christ will govern from David's throne. Isaiah 9:6 and 7.
"These days" of grace, "these days" of the Body of Christ, are not "these days" of Israel's hope, foretold by Moses, Samuel and others. "These days" were foreordained before the foundation of the world, but not foretold by Israel's prophets.
None of the twelve apostles, in their "Acts" ministry, spoke of these days; They referred to a hope and blessings promised by the pen of David, Joel, Amos, Moses, Samuel, and others. Let us be careful not to confuse prophetic promises with the mystery. Let us not confuse the hope of the Body of Christ with Israel's hope.
TEST THE THINGS THAT DIFFER
The correct translation of the first command of Philippians 1:10 is, "test the things that differ." Every student of the Word of God knows that in that Word, there are things which differ; but very few of these students seem to know very much about testing the things that differ. Things in God's Book differ because God's dealings with different people in that Book differed. Intelligent Bible study demands the recognition of the different dispensa­tions in the Bible.
About seven years after the death and resurrection of Christ those apostles who had companied with the Lord Jesus from the beginning of His earthly ministry (Acts 1:22) glorified God because then and there God granted repentance unto life to Gentiles. Acts 11:18. Then the leader of those apostles, Peter, said: "Men and brethren" in Acts 15:7. "And when there had been much disputing, peter rose up, and said unto them, men and brethren, ye know how that a good while ago God made choice among us, that the gentiles by my mouth should hear the word of the gospel, and believe. And God, which knoweth the hearts, bare them witness, giving them the holy ghost, even as he did unto us;" "and put no difference between us and them, purifying their hearts by faith." Acts 15:7- 9.
Up to that time, it was unlawful for the Jews to keep company with Gentiles. Acts 10:28. Some years later Paul, the apostle to the Gentiles, wrote: "For there is no difference between the Jew and the Greek: for the same Lord over all is rich unto all that call upon him." Romans 10:12. Then he added: "But I say, did not Israel know? First Moses saith, I will provoke you to jealousy by them that are no people, and by a foolish nation I will anger you." Romans 10:19. "For if thou wert cut out of the olive tree which is wild by nature, and wert graffed contrary to nature into a good olive tree; how much more shall these, which be the natural branches, be graffed into their own olive tree." Romans 11:24. Then later on, he wrote: "That at that time ye were without Christ, being aliens from the commonwealth of Israel, and strangers from the covenants of promise, having no hope, and without god in the world." "and came and preached peace to you which were afar off, and to them that were nigh." Ephesians 2:12 and 17.
From these Scriptures we learn that there had been a difference between Israel and the Gentiles. The Gentiles had been "no people", "A Foolish Nation". Israel was the People of God; His chosen nation. Gentiles were the wild tree; Israel the natural branches. Gentiles were afar off. Israel was nigh. Gentiles had been aliens from the commonwealth of Israel; strangers from the covenants of promise. Concerning Israel, the Scriptures declare: "Who are Israelites; to whom pertaineth the adoption, and the glory, and the covenants, and the giving of the law, and the service of god, and the promises; whose are the fathers, and of whom as concerning the flesh Christ came, who is over all, god blessed forever. Amen." Romans 9:4-5. "Ye are the children of the prophets, and of the covenant which god made with our fathers, saying unto Abraham, and in thy seed shall all the kindred's of the earth be blessed." Acts 3:25. In Romans 2:14 we read, "The Gentiles which have not the law." Thus we see that there was a difference between Israel and the Gentiles. While the Lord Jesus was on earth He called Israel "sheep" and "children". He called Gentiles "dogs". Matthew 15:21 to 27. There is a great difference between chil­dren and dogs. But about 25 years later God declared there was no difference.
While on earth the Lord Jesus said to the twelve apostles, "Go not in the way of the Gentiles." Matthew 10:5. Some years later, the same Lord Jesus said to Paul, "I will send thee far hence to the Gentiles." Acts 22:21. Test the things that differ.
Unto the Twelve was committed the gospel of the circumcision for the circumcision. Unto Paul was committed the gospel of the uncircumcision for the uncircumcision. Galatians 2:7 to 9. Test the things that differ."The law having a shadow of good things to come." Hebrews 10:1. There is a difference between the shadow and good things to come. Test the things that differ. Israel was judged with respect to meats and drinks and holy days and the Sabbath. Exodus 20:1 to 12. Hebrews 9:10. The members of Christ's Body are not to be judged with respect to any kind of religious ordi­nances or special days. Colossians 2:13 to 17. Test the things that differ.
The New Covenant Church of Hebrews 2:12 and Hebrews 12:23 was mentioned by Israel's prophets. Psalms 22:22. The Church, which is the Body of Christ, of Ephesians 1:19 to 22; Ephesians 3:6 to 9, and Colossians 1:24 to 28, was not mentioned by Israel's prophets. Test the things that differ.
The sufferings and glory of Christ were foretold by Israel's prophets. I Peter 1:12. The present ministry of Christ, as Head of the Church which is His Body, and Christ in the Gentiles the hope of glory, was a mystery (secret) not made known to Israel's prophets. Ephesians 3:8 and 9. Colossians 1:25 to 27. Test the things that differ.
---
NOTE FROM LAURA
Although I realize that no one knows exactly when the rapture will occur, I truly believe-(as many of you do)- that it is close at hand.  Although there are many who do not believe in a rapture at all, I believe that if it is in God's Word and He tells us it is going to happen, it will happen—it's just a matter of when.  However, when I read the headlines each day and I see the political, economical, and technological things that are happening, I cannot help but agreeing with Dad that the stage is almost set and the curtain is ready to be pulled. Indeed the thought of the rapture is extremely exciting for me, but I also find myself praying that it happens before things get too bad here. I think it would scare us if we only knew how fast things could change even in our beloved America. In the last week, I have seen information on both the mondex chip and on the proposed ''four world governments'' that in my mind would be the steppingstone to the one world government that revelation implies will be in place when the Antichrist will demand the world obeys him. Wow! Scary and exciting at the same time! It is such an awesome thought to know we as believers have the Blessed Hope! At the same time, it is sobering and sad to think of all the millions who will be left here to suffer the awfulness of the tribulation and then to end up in a place where the suffering is even worse. Knowing this should make us even more grateful to our heavenly Father for his perfect and free gift.
---
NOTE FROM OFFICE
Thanks to our dear friends for making 2007 a great year at the ministry. The past year has brought several changes and more growth, for which we are very grateful. We have acquired several new stations recently, so we hope to have many new friends reading this letter. For those of you who are new, there are a few things you can do to help us out in the office as far as the checks you send for donations, orders, and payments. For payments for products you received with an invoice, please write the invoice number on the memo line of your check. If you lose the invoice, the word "payment" will do just fine. If you are sending a check with an order, please write "send" along with the material you would like on the memo line. If there is not enough room on the memo line, you may use another sheet of paper. An order form is not necessary if you do not have one. Lastly, if you could write the word "donation" or "gift" on your donation checks, that would be appreciated. For those of you who are new to the ministry, we want you to know that 100% of all donations are used to purchase TV and radio air time as the program is not sponsored or underwritten by any domination or organization. If you have given during the past year and would like a year-end donation receipt, please just give us a call. Although we want to make clear that all donations are appreciated, we also want everyone to know that there is no obligation to contribute in order to receive the newsletter. We understand that many people hesitate to be added to mailing lists for the fear that their name and information will be sold or given to other organizations. Please be assured that Les Feldick Ministries never releases our database or even allows it to be put into a computer with internet access. If knowing this you still do not wish to receive the newsletter, just let us know and we will remove your name from the list.. In addition, if you have a change of address please indicate on your check as well as your letter. Please remember to write clearly on your money orders, your name, address and phone number.
Because of our new stations, we are hearing every day from new listeners, and the pace in the office is even faster. We have several people who ask us how many people now work in the office. As you know from the early programs that are now airing on most stations, Les and Iris did all of the "office work" themselves from their home for many years. After a while, some other family members joined in. Over time, some of the family had to leave the area, and the ministry continued to grow, so other help was necessary. At present, there are nine individuals doing office work. This includes making DVD's, CD's, answering the phone, opening the mail (Les and Iris still read all the letters), doing the computer work, packaging material, posting and taking the packages to the post office, keeping up with TV and radio stations, etc.
One of the nine includes our newest addition to the team Delena Williams. Delena is married and has three children. She has brought with her many years of office experience as well as her love for the Lord.
We would like to close by wishing all of our friends and supporters a very blessed 2008. We look forward to hearing from you.