Through the Bible with Les Feldick
Newsletter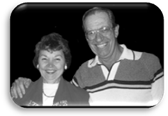 NOTE FROM LES
Dear Friends, First of all I want to thank every one of you for your letters. How we praise the Lord that He is opening the Word to so many in a whole new light. We also count it a privilege to take your special request to the Lord. We are not under the law, but we do have commandments from the pen of the Apostle Paul. One of them is pray for one another. We also have to thank you for your faithfulness in giving, how we praise the Lord for laying on your hearts what to give, and your obedience to that. Please never apologize for a small gift, with our Awesome God, the little is much.
Since our last newsletter we have been to Columbus, Ohio where our all day seminar was attended by 950, and a few weeks later the all day seminar in Indianapolis, which brought together 600. What a joy to meet again so many previous friends and then to meet so many new ones; a little taste of Glory to come.
A word to our Minnesota folks who have been ringing our phones off the walls wondering why we have not scheduled our annual all day seminar up there. We have held 14 in the last 12 years, so I thought maybe skipping one year might re-kindle the interest, but we will be at Bethesda Church in Prior Lake, MN - Sunday, August 19th and Osceola, WI - Mon., Aug. 20th - Wed., 22nd - We will once again join the Bethesda Church Discovery Conference at the Associated Retreat Center (ARC) on the beautiful St. Croix River. Please look under Upcoming Seminars for more details.
As those of you who attended our seminar in Indianapolis will remember, I was sick all day. As soon as we got back home I went in for an EKG, which resulted in my getting a heart cauterization which showed one vessel 20% blocked. We had to act quickly so I'd be ready for the travel to the rest of my seminars. So, Wednesday morning May 30TH a stint was put in place. All went well, and I came home the next morning and should be ready for the upcoming seminars. Thanks a million for all of your prayers.
Editor's Note; Since the writing of Les' note to you, we would like to let you know that Les had some complications due to the medication that he was given for his heart stint. He was hospitalized for five days and given strict orders not to do any traveling, thus the cancellations of all June seminars. We are sorry for any inconveniences this may have caused you due to the short time of notice that was given.
NOTE FROM LAURA:
Every cloud has its silver lining and I guess part of my silver lining is having a little more time to look out the window and truly enjoy God's creation. My family and friends have put together a bird station for me outside of my window and it has a birdbath, several bird houses and several bird feeders. After this winter and now this spring, I have come to the conclusion that God must be a bird lover! He has made so very many species and each species is so unique in so many ways. They are unique in their color, their call and songs, their eating habits, mating habits and more amazingly each individual is unique in their personality and even their feather arrangement! When I stop to think that no two individuals - birds or anything else - have ever been identically the same, but instead special and unique, it is almost mind boggling. And what is even more awe-inspiring is that God knows about each individual - even each individual bird!
In Matthew 10, verses 29 and 31 and again in Luke 12, verses 6 and 7, the Bible tells us that God knows about each sparrow, so how much more must He care about us! And what makes it so interesting is that God let us know he was concerned about even the most common and humble of birds! He didn't say He knew when each elegant swan fell to the ground and He didn't say that not even a beautiful songbird was forgotten of Him but instead He picked the sparrow! God made sure that we know that He cared about even the lowliest of birds and that we are more important to Him by a long shot, so then we can sing along with joy in our heart; "His eye is on the sparrow and I know He watches [over] me!"
NOTE FROM THE OFFICE:
We in the office always want to start by thanking all of the wonderful Godly people we are privileged to speak with on a daily basis. Your generous giving has allowed the ministry to continue to grow and share the Gospel with more souls each year. Les has always maintained that he is amazed that his teaching ever left Oklahoma, yet the hunger for the word taught in a simple, straight forward way has led broadcast of "Through the Bible" not only nationwide, but to many other countries around the world. What a great blessing and responsibility that is, and how we cherish your prayers in this endeavor. We would also like to remind you to please write in the memo line of your check or money order what it is to be used for (payment, donation, or when ordering please write order and what it is you are ordering). This helps the office staff process mail faster and easier.
Also, we want to introduce you to Stormie Taylor, a young woman who has been helping out in the office for the past few months. She is married and has two young children, and is incidentally the granddaughter of Ruby, another wonderful lady who has been with the ministry for some time.
Most of you who have watched Les over the years probably realize that the Monday - Friday programs that are now being broadcasted were actually taped about 14 years ago. Many of the products Les mentions in those early shows either no longer exist, or are formatted differently than they were at that time. We no longer have $2 transcripts of the programs, but now offer a transcribed book of 12 programs for $6. Likewise, we do have some $10 seminars in VHS & DVD form, but they are amateur productions so the quality should not be held to the same standards as those we offer for $30 which are professionally done. All of the details of current products and their prices can be found in our list.
There are so many people who the ministry is indebted to for the work they have done over the years. They all know who they are and that they will receive their compensation many times over some day in Glory. At this time we would like to mention one of two couples who have given of their time for many years to create and maintain the website. They are the ones to thank for the availability of the books and audio on the Internet. We asked them to send us their bio so that we could let you meet the people behind the endeavor. In the next newsletter we will feature the other couple that has also given so much time to the ministries' website.
---
Matthew McGee: I grew up in Arkansas, and moved to Louisiana to work as an engineer. There, I met my wife, Beth, in a Sunday school class in 1991. Beth is a school teacher who enjoys gardening and cooking. We have a back yard koi pond, and like to watch the fish along with the birds and squirrels. Beth is also an outstanding Bible study partner, and we love to study God's Word. As we studied in the early 1990's, we came to know the importance of seeing the dispensations. Yet we still had not recognized that Paul was the Apostle of the Gentiles for this current dispensation of grace.
In 1995, after we had moved to Tulsa, Beth came across Les's program on TV. He was teaching on the book of Acts in the same chapters that were being covered in a home Bible study that we were attending. The first time we attended Les's local class of about sixty, we heard him mention that Peter and Paul preached two different gospels, something we had never heard. After class, I wrote a letter to Les asking him to explain the differences between the ministries of Peter and Paul and the gospels they preached. At Les's next class, an engineering co-worker of mine, Robert Pennybaker, and his wife, Lu Ann, came with us. The four of us were so surprised that instead of teaching his usual lesson, Les used the whole two hours to answer my questions in detail! And the next week, he explained it further for another two hours. This understanding of the dispensations really opened up the Scriptures for us and has been an amazing blessing!
In March of 1997, I started setting up a web site at www.matthewmcgee.org for some Bible study articles that I had written. And I got to wondering, since Les already had his TV programs transcribed by Jerry Pool into books, would Les be interested in me setting up a web site for him and putting the text his books on it? That would make his teaching more widely available, at no cost to the reader. Of course Les was glad to get the message out to as many people as possible. So I set up the "Through the Bible with Les Feldick" internet web site at www.lesfeldick.org and have been operating it since then. Carl Mathison, a viewer who worked at a web hosting company, offered to host the web site free of charge. In 1998, we added the audio of the first 34 books to the web site in Real Audio format. Since then, Robert Pennybaker has taken care of the audio conversion for Books 35 and on. Recently, with the help of others, we have also begun to make the audio available on the site in MP3 format, which is especially convenient for IPOD users. All of the books and the audio of all of the TV programs are available on the web site. They may be read or listened to at no cost from anywhere in the world at any time. The Questions and Answers book is also on the web site, along with a search function for locating specific topics in any of the books. In the very early days of the web site, the main page was visited about less than 400 times per month, not including visits to the other pages. By year 2000, it was up to 6000 visits per month. Now in 2007, the main page is regularly visited over 30,000 times per month. In addition to the readers and listeners in the USA and Canada, Les has received e-mail from readers and listeners from every continent, and from islands such as New Zealand, the Philippines, the Shetlands, Mauritius, and the Faroe Islands. If you are not familiar with Les's web site, we hope you can visit soon. Grace and Peace, Matthew McGee.
---
The following was put together by Jerry Pool, a long time class member and friend. Jerry has been very instrumental in putting the books together.
HOW DO I KNOW FOR SURE I AM GOING TO HEAVEN????
In II Corinthians 4:3-4 the Apostle Paul tells us that Satan has the power to hide the Gospel of salvation, as he can blind them who believe not.
In II Corinthians 13:5 Paul tells us to: Examine ourselves whether we are in the faith; and whether Jesus Christ is in you.
The Apostle Paul gives very clear instructions on this subject of becoming a believer. In fact he warns mankind that his instructions are the only way to get to heaven. We find that warning in Galatians 1:6-9.
Paul also tells us that lost mankind in this Church Age will be judged by his Gospel of salvation. Romans 2:16
So what is Paul's Gospel of salvation? Paul tells us what we must believe in our heart for salvation. We find those instructions in several of the Scriptures Paul wrote. All contain the same instructions. All center around the death, burial, and resurrection of our Lord Jesus Christ!
For example he tells us in I Corinthians 15:1-4 that we must believe for salvation that Jesus died for our sins, was buried and rose again. In Romans 10:9-10 If we confess with our mouth that Jesus is Lord, and believe in our heart that God raised Jesus from the dead, then we shall be saved.
Paul tells us basically the same thing for the qualification to someday meet the Lord in the air when He comes for the true Church believers to take them to heaven. I Thessalonians 4:14-17 says: "For if we believe that Jesus died and rose again …" Then we too will rise to meet the Lord in the air with our new body which we will receive at that time. This is a free gift from God to mankind. Ephesians 2:8-9
Over and over those are the Apostle Paul's instructions for salvation. All the things that most think are required for salvation are not included in Paul's instructions he received from the risen Lord. However, that does not stop mankind from trying to add things to the Lord's instructions that He gave Paul. There is absolutely no works for salvation; it is Faith + Nothing - Romans 4:5 says - "But to him that worketh not, but believeth on him that justifith the ungodly, his faith is counted for righteousness."
So if you haven't followed those instructions in prayer to God, I pray that you will before it is too late. Remember if you're serious with God, He'll be serious with you. PURE GRACE by Jerry Pool